Commemoration
85th Anniversary - 2003

In late 2002, a small group of people in Dun Laoghaire, Co. Dublin, Ireland and Holyhead, Anglesey,
Wales decided that those who died on the Leinster had been forgotten for too long. Calling themselves The Friends of the Leinster, they planned to mark the 85th anniversary of the sinking in 2003 with remembrance services on both sides of the Irish Sea. It was decided that commemorations would be held at Dun Laoghaire on 10 October and at Holyhead on 12 October.
Check the 85th Anniversary section for more information.

90th Anniversary - 2008
Video: 90th anniversary commemoration ceremony - October 10th, 2008
Commemorative postage stamp

On 30 May 2008 An Post (The Irish Post Office) issued a stamp to commemorate the sinking. For information, see page 13 in the following publication: Irish Stamps Collectors News - Issue 23.
100th Anniversary - 2018
10 October 2018 marked the 100th anniversary of the sinking of the RMS Leinster.
See the 100th Anniversary section for more information.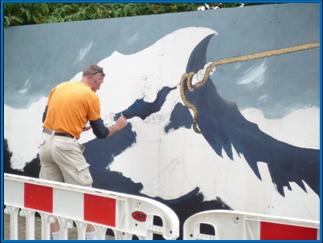 Over 100 years after the sinking of the RMS Leinster, the murals on display as part of Dún Laoghaire Anseo, in July 2021, include the dramatic image below by Paul Francis, a professional graphic designer and illustrator from Dún Laoghaire, representing the rescue of Dorothy Toppin.
Appropriately the mural is located outside the Maritime Museum in the former Mariners Church, where the watch, presented to William Maher by Dorothy Toppin is on display.